Water
Snohomish County PUD originally started as a water utility in 1946. Over 75 years later, we proudly serve more than 23,000 customers.
General water service questions:
425-397-3000 (M-F, 7:30 am to 4 pm)
Water service issues: 425-783-1000
Water service
What to consider when connecting to PUD water, plus application forms, rates & fees, info on water fill stations, and more policies and procedures.
Learn more >
Conserving water
Tips on how to save more water and energy, including our lawn watering guide, free water-saving kits, and more.
Learn more >
Construction projects
Details on our service territories and current works in progress.
Learn more >
Frozen water pipes
How to prepare your pipes for cold winter weather, what to do if they freeze, and more water safety tips.
Learn more >
Water System Plan
View the 2021 Water System Plan
Learn more >
Connect Up Water
The PUD will exchange more than 23,000 water meters with advanced water meters.
Learn more >
Safe & reliable drinking water
The PUD abides by the water quality regulations outlined in the State Department of Health and the Environmental Protection Agency's Safe Drinking Water Standards.
Most of our customers are supplied with water purchased from the City of Everett, and some customers are supplied by well water. The water purchased by the PUD from the City of Everett is filtered, treated and chlorinated to maintain purity. Fluoride is also added to the water.
Treatment provided for the water systems supplied by wells varies depending on the characteristics of the well source.
The PUD has full-time water supply specialists who assure your drinking water is safe to drink by routinely testing for bacteria and chemical impurities. The types of testing and frequency will depend on the size, location, susceptibility to contamination and other factors. There are two general categories of tests that are scheduled: bacteriological (organic) and chemical (inorganic).
Bacteriological tests are conducted monthly at various locations of the distribution system. The PUD maintains a coliform-testing plan that identifies frequency and location of sample sites.
Chemical testing varies tremendously. The types of tests conducted include:
Synthetic Organic Compounds (SOCs): Generally testing for the presence of pesticides
Volatile Organic Compounds (VOCs): Testing for petroleum based products
Total Trihalomethanes (TTHMs): Testing for by-products of chlorine
Radionuclides: Testing for the presence of radioactive substances
Nitrates: Testing for by-products of septic systems, dairy farms, poultry farms etc.
Lead and Copper: Tests showing high level of these metals may indicate highly corrosive water which deteriorates pipes
Inorganic Compounds: Testing for the presence of metals, salts and sulfates
The PUD takes the sample and sends them into a state-approved laboratory, which then sends the results to the State of Washington Department of Health as well as to the PUD.
The 2022 report for systems in Greater Lake Stevens, Arlington and Granite Falls, Creswell, and Storm Lake Ridge.
Download >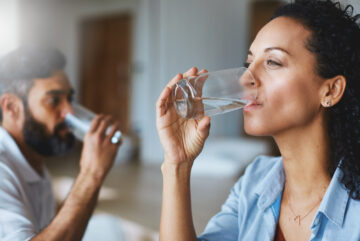 The 2022 report for systems in Kayak, May Creek, Skylite Tracts, Sunday Lake, 212 Market & Deli, Sunday Lake and Warm Beach.
Download >
Learn about our water main flushing project, how it helps maintain water quality, and what it means for you.
Learn more >